PROVIDING

ROADSIDE AND TRANSPORTING
ASSISTANCE
FOR
MOTORCYCLES


AUTO TOWING AND TRANSPORTING
COMING SOON
ANYTIME MOTORCYCLE TOWING, LLC

WELCOME
IT'S TIME TO ROLL
ANYTIME IS ALWAYS ON TIME
PLEASE CALL FOR A TOW OR TRANSPORT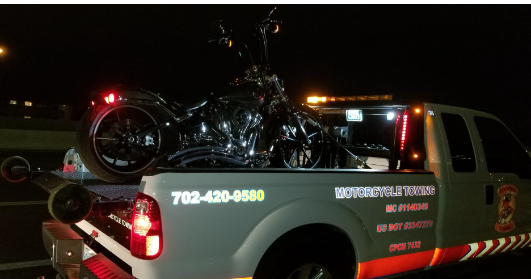 Built to Last
Experienced & On Time Anytime
ANYTIME / ANYWHERE
24/7
HOLIDAYS

AS WELL
DEPENDABLE MOTORCYCLE TOWING
The next time your bike won't rev up, call Anytime Motorcycle Towing in Nevada where we service Henderson, Boulder City, Las Vegas, City of Las Vegas, North Las Vegas, Nye County and other Metro and Surrounding Areas. We offer safe and reliable motorcycle towing whenever you need it. As members of multiple motorcycle clubs, we know how hard it can sometimes be to find someone to tow your bike safely when it breaks down. That's why we are dedicated to picking up your motorcycle any time you need roadside assistance. In addition to Motorcycles, we tow Mopeds, Scooters, Golf Carts and ATV's and small Vehicles so make an appointment with Anytime Motorcycle Towing. If you need Transporting Service please give us a call.
EMERGENCY TOWING AND TRANSPORTING SERVICES AVAILABLE
FULLY LICENSED AND INSURED IN STATE AND OUT OF STATE
CPCN# 7432 - US DOT# 3347270 - MC# 1140349
GET A QUICK RESPONSE WHEN YOU NEED
MOTORCYCLE TOWING OR TRANSPORTING
Our motorcycle towing company offers reasonable rates for service and we format our pricing depending on the type of tow, where it's located, and the actual distance. Payment by credit card for services is due upfront, and you must also provide a valid ID for proof of identity that match your card. There is a 30% Cancellation Fee if Tow is canceled in route.

TOWING FOR MOTORCYCLES, MOPEDS, SCOOTERS, GOLF CARTS,
SMALL CARS & ATV'S, ETC.